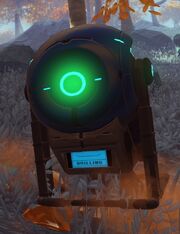 Used to extract Element-X from the ground.
The blueprint for Harvester has a chance of dropping from slain monsters.
Upgrading the Harvester will increase the harvest speed and max capacity.
There's roughly 100 Element-X in every spot and you will most likely run out before you manage to fill up your Harvester. Do not upgrade your Harvester because most of the time the new spot will spawn out of range from your harvester and you will need to build another one.
Harvester upgrades
Lvl
Stats
1

Harvests 1 Element-X every 10.4 seconds.

Max capacity 600

2

Harvests 1 Element-X every 9.2 seconds

Max capacity 900

3

Harvests 1 Element-X every 8.2 seconds

Max capacity 1050

4

Harvests 1 Element-X every 7.3 seconds

Max capacity 1200

5

Harvests 1 Element-X every 6.6 seconds

Max capacity 1350

6

Harvests 1 Element-x every 6 seconds.

Max capacity 1500