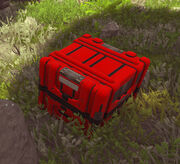 LootCrates are rare boxes that contain
raw resources
and some
materials
.
The materials you recieve is dependant on the level of the zone that the box spawned in. Each LootCrate has its own Level Requirements. If your Level is not high enough you won´t be able to open the LootCrate.
Ad blocker interference detected!
Wikia is a free-to-use site that makes money from advertising. We have a modified experience for viewers using ad blockers

Wikia is not accessible if you've made further modifications. Remove the custom ad blocker rule(s) and the page will load as expected.