Wood is one of the seven raw resources in the world.
You obtain wood from harvesting trees with your MultiTool or finding it in rare LootCrates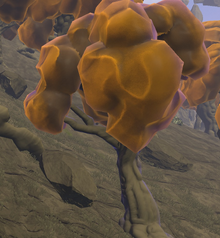 Trees will also randomly drop wood materials needed to craft items. The item recieved depends on zone level. You will still get lower level materials in higher level zones.
Danish:
Brænde er en af syv rå ressourcer, som kan findes rundt omkring i verdenen. For at få brænde skal du fælde træer med dit MultiTool. Du kan også finde det i byttekasserne. Engang imellem når man fælder træer, så dropper der andre tilfældige træmaterialer som skal bruges til at lave specielle ting, som f.eks. Ore Sword +, der kræver "Crumpled Leaf". Hvis du befinder dig i f.eks. en lvl 15-17 zone, så vil du ikke kun have mulighed for at få "Crumpled Leaf" ved at fælde træer, men også alle de materialer, som fremkommer i zonerne under dette level, som f.eks. Pristine Acorn.